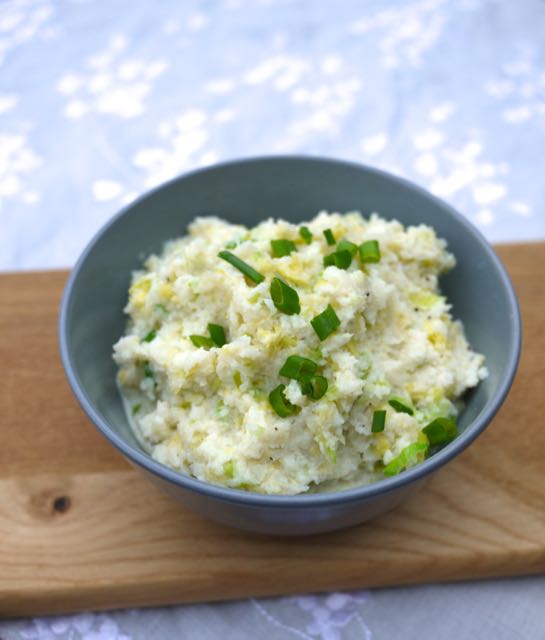 I usually think of colcannon – a traditional Irish dish that combines potatoes, cabbage, cream and butter – as rich, creamy, comforting fare that's a perfect side accompaniment for winter dinners. However, my attempts to make a low carb version of the dish yielded a surprisingly light and fluffy creation that seems a perfect side for summer.
Pair it with some marinated salmon or some lightly grilled chicken, and you have a really nice yet simple main course.
You probably won't be surprised to hear that to make it low carb, potatoes have been substituted with good old cauliflower. You can still add oodles of butter and cream if you like, and it still turns out light and refreshing rather than heavy and stodgy.
It makes a great THM 'S' side too.

Low carb colcannon
A beautifully light low carb colcannon made with cauliflower and savoy cabbage
Ingredients
One medium cauliflower, outer leaves removed and chopped into pieces
Half a head of savoy cabbage, shredded
1 clove garlic, crushed
3 spring onions, sliced
1.5 tbsp butter
3 tbsp double cream
Salt and black pepper to taste
Instructions
Boil the cauliflower in water until tender (around 15 minutes). Drain well and then mash well in a bowl.
In a pan saute the garlic and spring onions in a little olive oil.
Add the shredded cabbage and saute for a further five minutes until it starts to become tender.
Transfer the cabbage and onions to the bowl with the mashed cauliflower and stir in well.
Add the butter, cream and seasoning and use the masher a little more to combine well.
Put into a serving bowl and garnish with a few spring onions.