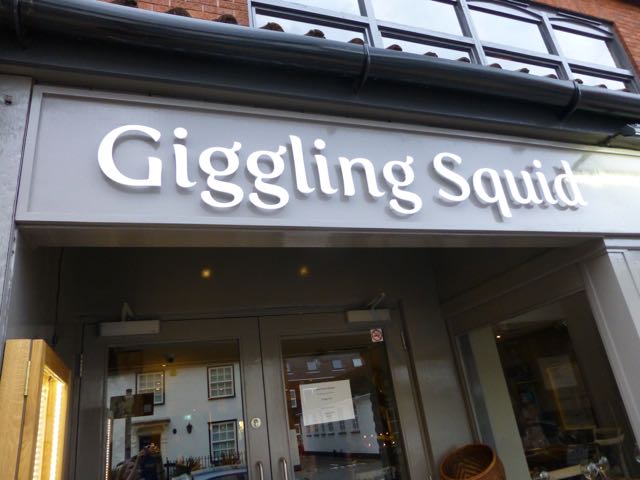 My first introduction to Thai food was more than 20 years ago while on a girlie backpacking trip to Bangkok and Koh Samui. Then, as now, it was some of the most deliciously exotic food I'd ever tasted, and I remember the intense spicing of every dish virtually knocked us all out!
I've been a frequenter of several cosy little family Thai restaurants in the UK since then, and the food has always been exceptional, although the quality and succulence of the huge Thai seafood could sadly never be replicated here. Given the multi-cultural melting pot of food in the UK, it's perhaps a little surprising that it's taken all this long for a quality Thai food chain to pop up here.
Enter Giggling Squid (don't you just love the name) – a really welcome arrival to the British chain restaurant scene. The first one opened in Hove in 2009, but in the last two years expansion has really stepped up several gears. The grand and ambitious plan is to open a total of 70 restaurants in seven years. My husband and I recently attended the VIP opening night of their 15th restaurant in Billericay, Essex and got to sample some of their signature dishes.
The restaurant is the brainchild of husband and wife team Andrew and Pranee Laurillard, who wanted to create a rustic, street-style Thai food experience in more modern surroundings. The pair first met when Pranee came from Thailand to study in the UK for a Masters degree, while Andrew once worked as the marketing director for a FTSE 100 company.
All the chefs they recruit are highly skilled, with most having already worked in some of Thailand's most prestigious hotels and resorts. The opening of Billericay alone created 20 new jobs. And the charming name Giggling Squid is apparently the nickame of one of the couple's three children.
The interior décor at Giggling Squid Billericay is simply beautiful – quite top notch in fact for a High Street chain. I'd call it eclectic beach chic – weathered wood panel walls and tables, natural wicker lampshades, shell art, vintage mirrors, rustic ceramic floor tiles and a colour palette of greys, blues, whites and purples.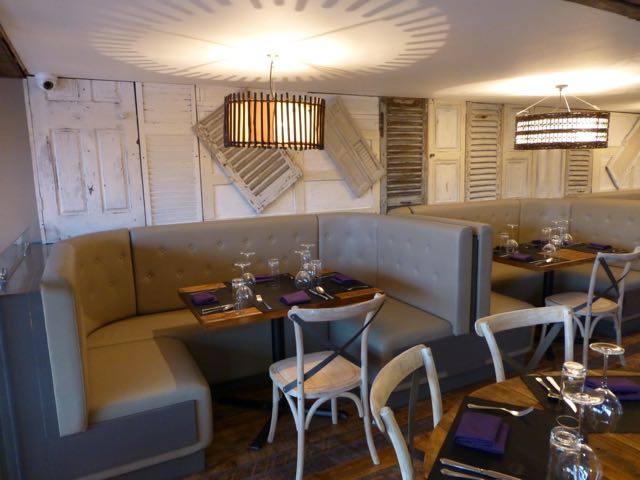 Satay and squid
We sat near to the open kitchen and it was nice to hear the sizzle of the woks and bustle of the all-Thai team of chefs as we awaited our food.
We opted for their signature Salt and Pepper Squid for starters, along with Chicken Satay. They arrived beautifully presented, along with a variety of dipping sauces. The squid was plump and perfectly cooked and in the lightest of crispy batters, although personally I would have liked more of a pepper kick. The chicken satay was decent enough and both were very good portions.
Next we opted for the Thai Green Prawn Curry, which I can never quite resist (predictable, moi?), while hubby went for the Chicken Massaman curry. Again the presentation of both was great, delivered as they were in cute little cast iron pots. The jasmine rice was light, fluffy and impeccably cooked.
Both mains were good, fragrantly spiced, sweet from the rich coconut milk, with lovely al dente vegetables – but both were a little light on the chilli heat. My husband likes red hot Indian food – the kind you only get in India – so he's always a tricky customer to please, but even I felt the predominant taste was sweet rather than very spicy. As it's all cooked fresh to order, however, so next time we'd simply request more chilli.
The restaurant was operating a limited menu for the launch, so we were a little disappointed not to get to try some desserts. There was some exotic chocolate concoction on the main menu that sounded really nice.
A glance at the full menu, which is mainly tapas style, revealed some rather delicious sounding dishes – such as Stuffed Baby Squid Gra Pao which is succulent baby squids stuffed with chicken, squid and herbs and served in a spicy sauce and Sleeping Honey Duck with Orange Salad, which is duck in a sweet spicy glaze served on a bed of sweetheart cabbage and topped with crushed cashew nuts.
There are some nice little comments from Pranee on the menu too, which added that extra charm of a personal back-story. For the Pad Cha, she tells of how the couple returned to Thailand one winter to find that their favourite shack selling Pad Cha was no longer there. "Anyway I keep it on our menu to remind myself of the lovely flavour" she tells us.
The opening night of Giggling Squid's Billericay restaurant could certainly be deemed a success, and the gracious Thai staff could not have been more efficient or welcoming.
Back for more
I was still thinking of it several days later when I was on a nearby shopping trip with my mum, so we decided to pop in and try out the lunch menu, which like the whole menu, is amazing value (tapas dishes and starter start from £3.25, mains from £6.75 and lunch sets with four elements start at £10.50).
I couldn't resist having the Salt and Pepper Squid again, this time followed by the Chicken Pad Thai, which was beautifully sauced, with succulent chicken. One of the best Pad Thais I've had in a long time.
My mum opted for a two-piece lunch set, which included a small spring rolls starter, followed by a Thai Green Chicken Curry. For her, the spicing was just right, and she loved both dishes.
This time round we could have tried the desserts but we were just too satisfied and full for lunchtime! The whole bill came in at under £25 (which included one bottle of beer, and service charge), which I think was exceptional value for such a lovely lunch in stylish surroundings.
So the verdict is that yes, I would happily visit Giggling Squid again, as you can see I already have! Given its current rate of expansion, they've clearly tapped into a much-needed gap in the market – and they're doing it with great style, business acumen and of course, very authentic food.
So if you see a Giggling Squid pop up near you, do give it a try, I'm sure the food, ambience and hospitality will really make you smile.
For more details, visit www.gigglingsquid.com