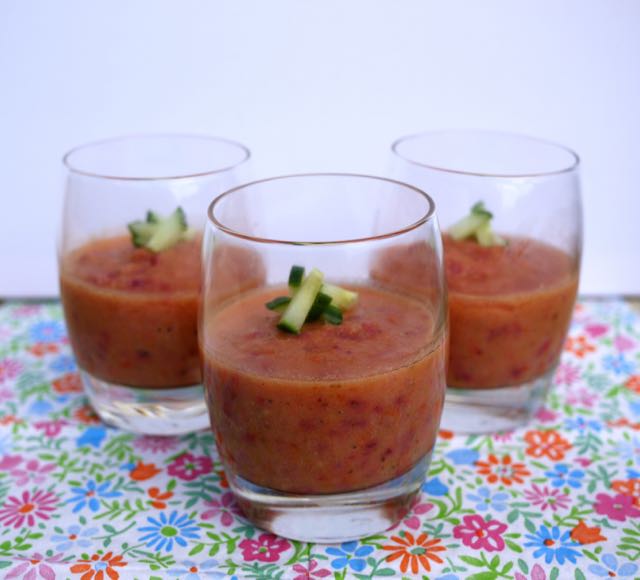 I realise there are a lot of people turned off by the idea of cold soup. And if you mentioned it to me in winter, I would probably baulk at the idea too! But there's something about gazpacho, especially when you make it at a time when tomatoes are at their peak and gorgeously ripe from the summer sun, that's just so refreshing and delicious.
I think it makes a great, eye-catching accompaniment to a summer buffet table. You could serve it in smaller shot glasses with a bit of ice, as a nice savoury cooler.
You can add a bit of spice if you wish. I put a hint of chilli in this one, but leave it out if you don't like the whole cool yet hot combination. Personally I love it.
This is a great diet recipe too, if you're doing the 5:2 diet, as you can skip the olive oil and keep it low calorie and low fat.
Cool summer gazpacho
A beautifully cool summer soup with a little hint of spice, bursting with the flavour of ripe tomatoes.
Ingredients
5 ripe tomatoes
Half a cucumber
1 stick celery
1 red pepper, deseeded and chopped
A quarter red onion, chopped
1 spring onion
Quarter teaspoon teaspoon chilli
1 tbsp sherry or red wine vinegar
Dash of Worcestershire sauce (optional)
1 tsp sugar (or xylitol)
Sea salt and black pepper to taste
Instructions
Put all the ingredients into a blender and blend. Don't blend until completely smooth, leave some pieces in the soup for texture. If the texture is too think for your taste, add a little water until it's your preferred consistency.