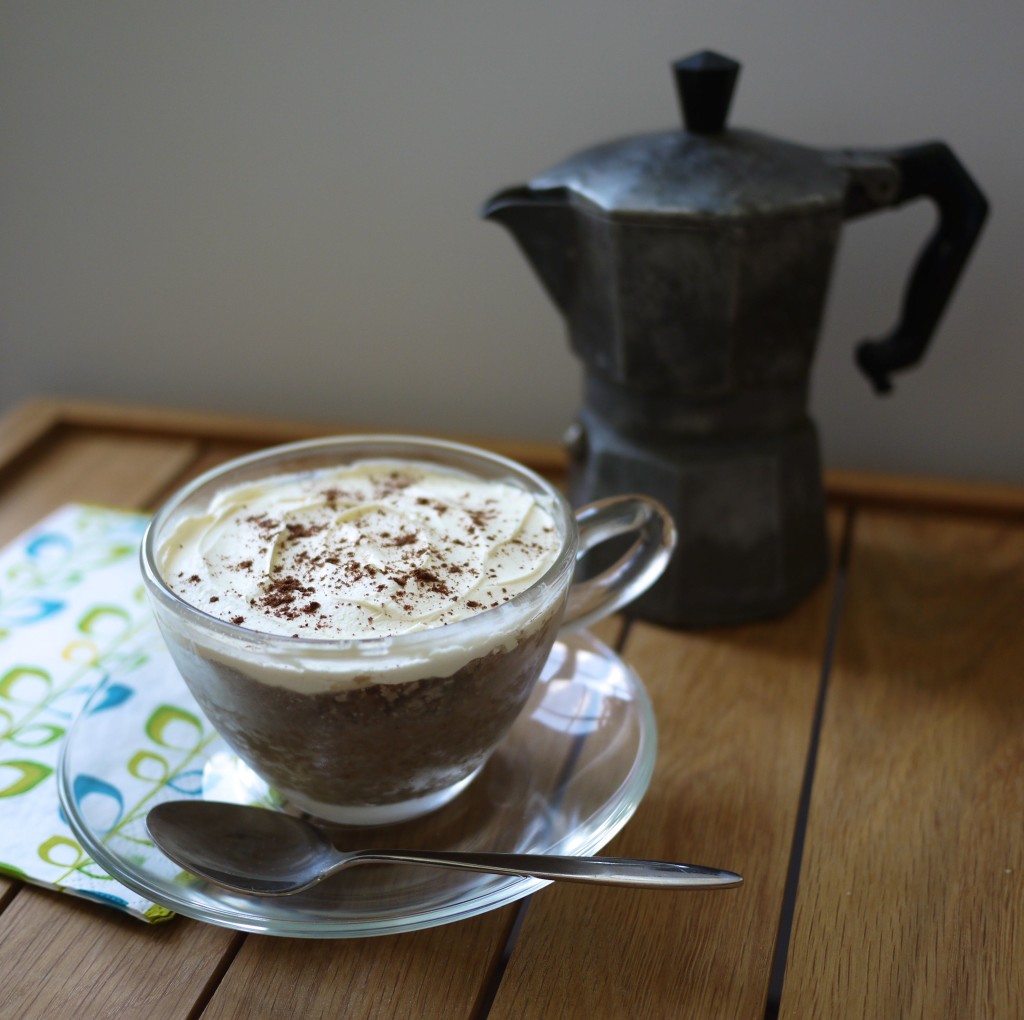 What's not to like about cake for breakfast? This one has a smooth coffee flavour, healthy ingredients and a sweet cream cheese topping.
If you follow the Trim Healthy Mama way of eating, then you're probably very at home with the concept of devouring cake for your brekkie, all whipped up in a cup or mug and zapped in the microwave for a minute or two.
How about this gorgeous Meyer Lemon Mug Cake from Caroline at All Day I Dream About Food for starters.
Although I confess to being more a fan of savoury than sweet breakfasts – this makes a really nice change from my usual 'eggs in all kind of ways' for breakfast.
I couldn't resist throwing in a handful of walnuts for good measure, as I love the whole coffee and walnut flavour combination.
Ingredients (Serves one)
Third of a cup of strongly brewed coffee (you can use a strong instant blend if you prefer)
1 heaped tbsp extra virgin coconut oil
2 heaped tbsp ground almonds
2 heaped tbsp coconut flour
½ tsp stevia powder or 1 tsp xylitol
1 level tsp baking powder
1 egg
1 small handful of walnuts, roughly chopped (optional)
Topping
1 tbsp cream cheese
1 tbsp thick cream
A few pinches of your sweetener of choice (I used about 1/8 Sweetly Stevia powder)
Method
Pour the freshly brewed coffee into a large cup or mug. Stir in the coconut oil until melted. Stir in the ground almonds, coconut flour, baking powder and sweetener. Finally beat in the egg and stir in the walnuts.
Cook in the microwave in 30 second bursts for about two minutes in total.
For the topping, mix together the cream cheese, thick cream and sweetener. Cover the top of the mug cake and dust with cocoa powder or raw cacao powder. Dive in, and have a great day!
And if you're looking for another low-carb or THM breakfast idea, why not try these fluffy low carb pancakes?