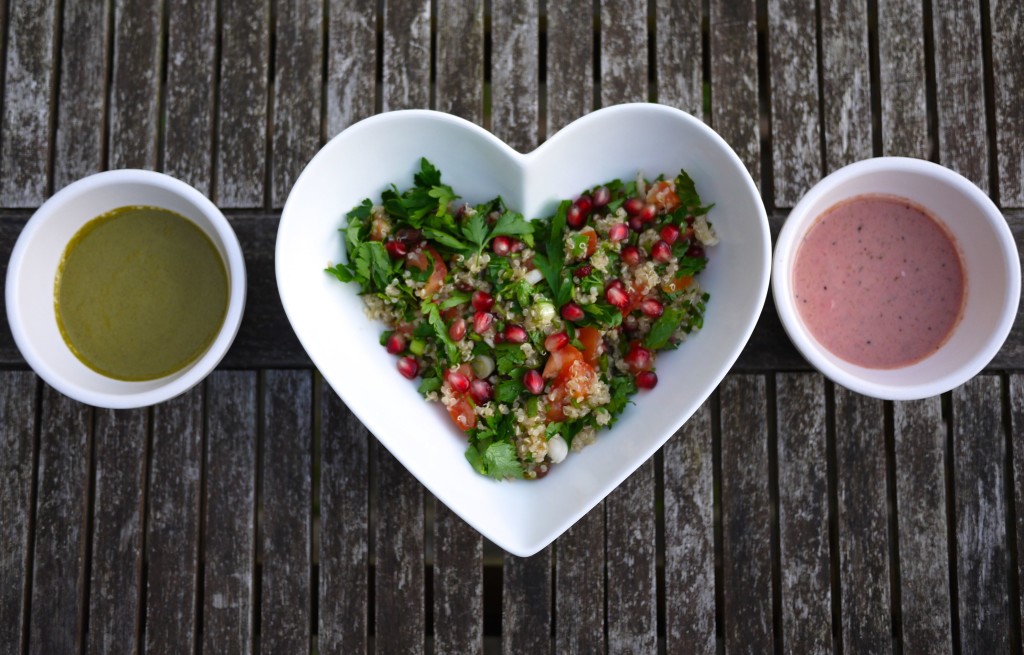 So this is the thing with tabbouleh – it's one of those recipes that you can freestyle with, depending upon what's available in your fridge or store cupboard. Unless, of course, you're a purist who wouldn't think of straying from an authentic Middle Eastern version of the recipe. But where's the fun in that?
As long as you include a grain, an abundance of herbs and some tomatoes, it will always look like tabbouleh, but you can surprise and delight your diners, or just yourself, with any number of little additions.
My hubby's going a bit nuts about pomegranates at the moment – they're all over the kitchen (hence the recent recipe for pomegranate dressing here). I tossed a good helping into this dish, along with some lightly fried barberries and fried, salted pistachios. I was also going to toast some pine nuts, but I forgot. Next time definitely!
Come to think of it, all the ingredients I just mentioned are frequently used in Middle Eastern cookery. Other things you could consider are some finely chopped sun dried tomatoes, ditto for some preserved lemons, or why not add a bit of a Greek twist and crumble in some feta cheese?
All the flavours really come to life when drenched in a smokey garlic dressing.
Tabbouleh is just the perfect accompaniment to summer BBQ fare, and you can eat the leftovers for lunch the next day.
The pink and green dressings that you see in the picture are the aforementioned pink pomegranate dressing, and a lovely green chilli and herb dressing that I'll be featuring in an upcoming post.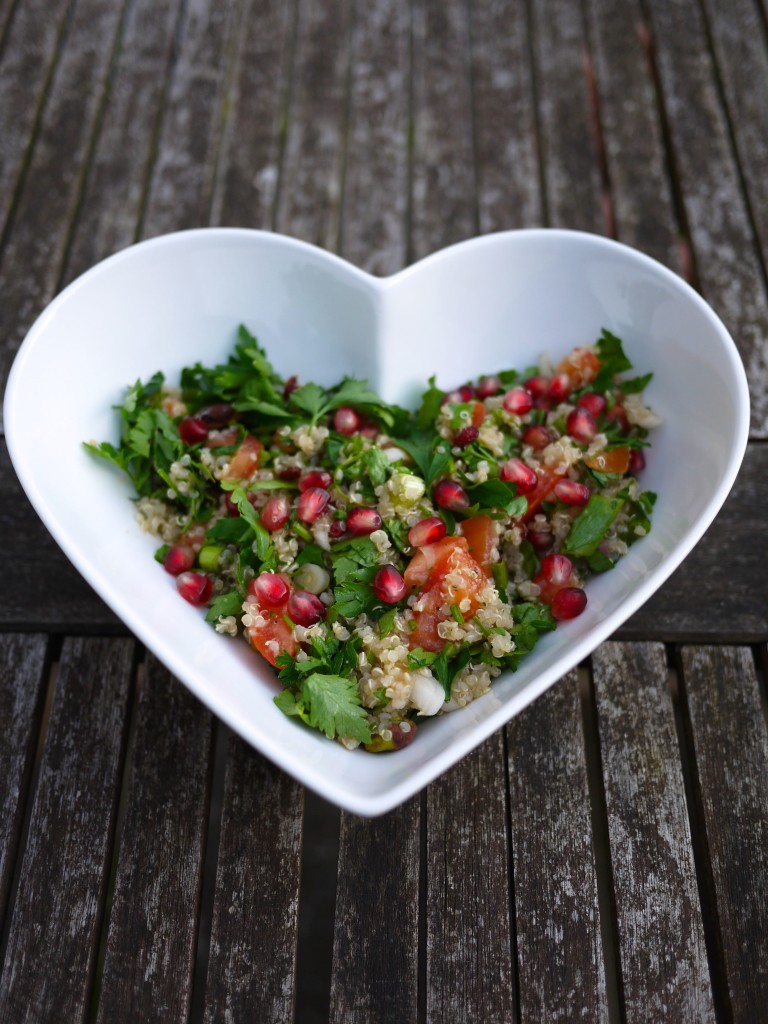 Ingredients
Half a cup of quinoa (or bulgur wheat for a more traditional version)
Half a large bunch of flat-leafed parsley, finely chopped
A handful of fresh mint, finely chopped
2-3 large, ripe tomatoes, finely cubed
Half a cucumber, finely diced (I didn't have any, so left it out of this particular dish
3 spring onions, finely sliced)
Handful salted pistachios
1 tbsp re-hydrated barberries (optional)
3 heaped tbsp pomegranate seeds
Sea salt and black pepper to taste
Dressing
4-5 roasted cloves of garlic (I did mine two days before when I was roasting some vegetables)
4 tbsp olive oil
1 tbsp apple cider vinegar
Juice of half a lemon
Method
Soak the quinoa for at least half and hour, then boil lightly for 5-10 minutes. Drain and leave to cool.
Lightly fry the pistachios and barberries for five minutes in olive oil. Set aside.
Combine all the dressing ingredients in a blender until well mixed. In a bowl, pour over the quinoa and mix well. Lightly stir in the rest of the ingredients.
I find tabbouleh is best served at room temperature, but store leftovers in the fridge afterwards, and have them with your scrambled eggs in the morning!